Czech Hallmarks & Jewelry Care
All our jewelry, which weight is more than 3,0 grams are marked with a production stamp, quality stamp and the Czech state punch.
Below you may have a look at the Czech state punches.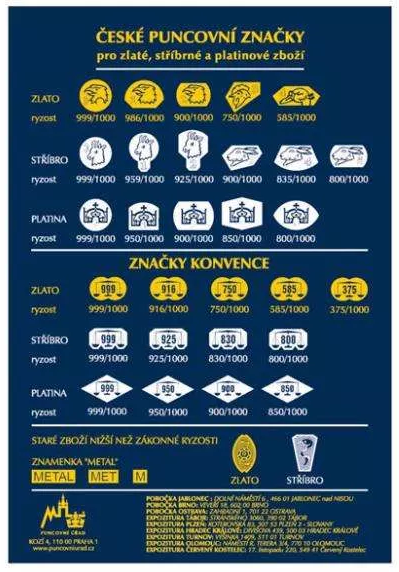 JEWELRY CARE
CLEANING
You can clean your silver jewelry with a cleaning cloth- using these cloths to clean silver once a week or so will keep sterling silver jewelry shining brightly. It should remove all dark stains and oxidization, however, if the piece of jewelry has an intentional dark definitions- using this cloth may remove it as well, use the cleaning cloth carefully.
One more way is to clean your jewellery by submerging in the soapy water. Let it soak for 15 minutes. Take the jewelry out of the soapy water. Use a soft toothbrush to gently scrub in the tight places on the jewelry. Hold the piece under lukewarm running water for a minute to rinse off the soapy water. Immediately dry using a soft lint free cloth.
WEARING
Store your silver jewelry in a box or in a zip lock plastic bag. Make sure you don't store multiple jewelry pieces in the same bag: silver is a soft metal, so the individual pieces can scratch each other.
Avoid any contact of silver with perfume, lotions and chemicals.
Taking a shower with your silver jewelry is allowed, water and soap will help keeping the silver clean.
Remove your jewelry before entering the sea or a swimming pool, the chlorine and the salt can damage the silver.
Wear your silver more frequently. Opposite of what you might expect, wearing your silver and cleaning it thoroughly by hand can defend against oxidation.
Even wearing your silver jewelry once a week could keep it looking oxidation free for longer.
OXIDATION
If your silver piece was oxidised once, please note that oxidation is only on the surface layer of the silver and will wear away and become lighter with time and continuous wear.
Oxidation can be renewed using liver of sulfur solution at local jeweller or at home, please follow manufacturer's instructions.
We provide a free oxidation service to our costumers, so you are always welcome to send us your jewelry piece for renewing the oxidation.